Top Advertisement Design Zimbabwe 2023
Advertisement Design for your products and services in newspapers and magazines is one of the most traditional marketing methods and a professionally designed advert is crucial, not only your advert will be seen by many of your potential customers; a poorly designed advert may even have an adverse effect on your company image.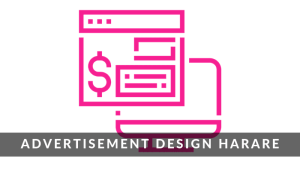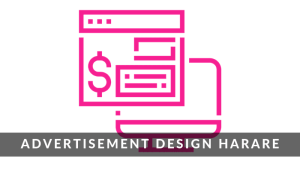 Two of the key areas that we look at are your target audience and advertising medium. Our graphics designers at our Harare office love to create a design that can deliver your message effectively and in a creative way.
Available formats for advertisement graphic design artwork: .psd, .ai, .png, .eps, .tiff, jpeg, .pdf
All artwork uses true colour, CMYK
The value we add through our graphic design and advertisement design services is to re-create your communications in a new and different light – one which makes your audience more interested in, and receptive to your message.
We are regarded as the top advertising design industry leaders in digital strategy and solutions, focused solely on delivering great website user experiences.
What do we ask on your advertisement design questionnaire?
What does your company do, and what is the purpose of your website?
What pages would you like on the website? (e.g. Home, About, Services, Contact).
List any websites you like. Perhaps from a colour, style or layout point of view. Please note that the website does not have to be the same type of business, we are just trying to understand the style that you require.
What is the target audience of your company/website?
Please tell us if you have an existing logo and colour scheme. If not, is there a colour scheme or logo idea that you would like to suggest?
Do you have any companies in the same field that you are competing against? If you know of any, please provide their name or website address of them.
Our Advert Design Philosophy
It's easy to explain our business philosophy; we want to offer the best possible service at the lowest possible price. We do this by employing the best people while at the same time keeping tight control over our costs. We will put you first and always go the extra distance to ensure that the results exceed your expectations.
We'd love to come and speak to you about what you're doing online and how we can help. Please get in touch to arrange a time for us to come and see you if you are based in Harare. For locations outside Harare, we can still come to your offices anywhere in Zimbabwe at your cost. We also believe that an advert should greatly increase your website SEO efforts, be it online or offline.
Low-Cost Base, Great Talent
If you work speMEDIA you won't get invited to an expensive office in Harare CBD and taken out for lunch at a five-star Sheraton Hotel restaurant. You won't get 4 account managers who all claim to look after your website development account when in reality they'll only get in touch when they want to sell you something. And we don't have a creative team who spends more time snowboarding than working on your design projects. The good news is that if you work with us then you won't have to pay for any of this!
How Can I Communicate With You?
You can email, call or WhatsApp us at +263 776 260 360. You can also click on the orange box that is on your bottom right for a much quicker response.
What Do You Require For An Advert Design?
What we need for your advert is your company details, the purpose of the advert, the targeted audience, and any competitors if you have any among other things. This is so that we know the style you want and we deliver the perfect advert for your company/website.
What Can You Do Differently?
Our graphic designers aim at creating a design that is unique and can deliver your message to your audience effectively and creatively. We make sure the designed advert makes your audience interested. A poorly designed advert impacts your company negatively so we aim at eliminating that.
Why Should I Design My Advert?
You want to make your company/website known and reach the right audience. Not only that you want to attract as many audiences as you can. It is only a great designed advert that makes that possible which is where we come in. We offer the best services at the lowest prices. We have the best people that can deliver the best from your company.
Can you help me with getting an advert designed in Zimbabwe?
Yes, we can! Why not give us a call at +263 776 260 360 or email us to discuss your advertisement design project whether you are in Harare or anywhere in Zimbabwe? Get a free no-obligation estimate or contact us to discuss your exact requirements.
The following information might interest you: