Top Best Business Letterhead Design Zimbabwe 2023
A business letterhead design company in Zimbabwe, speMEDIA provides clients with the best business letterhead design services to complement your website design. Creating first positive impressions is the main goal in the corporate business field. The following play separate and imperative roles in pumping your market value and credibility to the brand:
Office appearance
The staff
Stationary
Business services
As much, business letterhead designs are just as vital in the promotion of the business. A business is also known as a company's representative that carries the company name, a logo, address, contact numbers, and other information that represents the company's professionalism.
Benefits of well-designed Letterheads in Zimbabwe
The use of letterheads for professional purposes gives you so many benefits, including the following:
It serves as an excellent marketing tool that you can use to market your brand and products
It helps establish your credibility as well as increase your reliability in the eye of existing and prospective customers
Your brand message is provided by printing the company name, address, phone numbers, and message on it
Clients are more likely to remember you whenever they see your logo/address printed on a letterhead
A beautifully designed and unique letterhead will help enhance your professional image in the market
It's a cost-effective way that you can use to publicise your business
It will show how creative you are and the culture of your organisation
You are guaranteed of getting more traffic to your website if you add your company's URL on the letterhead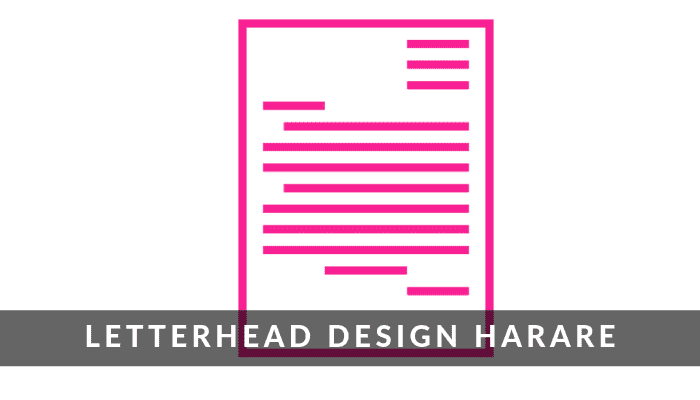 The Best Business Letterhead Design Company
Here at speMEDIA, we are very eager to provide your company with a chance to have the most incredible and professional business letterhead design that will most definitely stand out in the corporate market. Our best business letterhead design services are guaranteed to bring value-added corporate presence as well as enhance your brand's credibility on several stages. What makes our services the most preferred is our capability to fulfill customers' requirements of any standard.
We have highly skilled graphic designers who work with industry-set printing procedures according to the specifications of our clients. There are many letterhead design companies in the country but we consider ourselves the best. This is because we offer high-quality services at affordable rates.
Fill out our contact form and one of our customer service representatives will get back to you as soon as possible.
Why speMEDIA Letterhead Design?
speMEDIA has the ability to give your letterhead a marketing and advertising touch. This allows you to receive exposure as well as attention from customers. Not only that, we have the best rates as well as great customer support service. Also, we give your business advice on how to get more from your marketing efforts. Like for example with minor graphics design edits, your designed letterhead can be used on the design for your business stationery such as sales invoices, and sales quotations, with compliments slips and delivery notes at no major extra cost to you!
Can you help me with getting my letterhead designed in Zimbabwe?
Yes, we can host your website today! Why not give us a call at +263 71 495 7728 or email us to discuss your company's letterhead design needs whether you are in Harare or anywhere in Zimbabwe? Get a free no obligation estimate or contact us to discuss your exact requirements.
[wpforms id="1129″ title="false" description="false"]
Why Is Business Letterhead Important?
The business letterhead is just as important as your brand. It represents your company/website and has a huge impact on the first impression to customers. It says a lot about your company and the services you offer.
Why Getting A Letterhead Design From speMEDIA?
We know just how important a letterhead is to your company and the impact it can have. Therefore, we deliver a letterhead that has both advertising and a marketing touch. This is so that you get exposure and much attention from customers.
Can I Get A Personalised Letterhead Design Quote?
Yes, sure we can design a personalised letterhead for you. We understand that your business is unique so we do that for you. You can fil in the form that is below and we will respond to you urgently with a quote.
What Information Do You Need For My Letterhead Design?
We will need all about your company, the services you offer, contact details, logo, website address, social profiles among other things. So we can deliver the perfect design for you.
The following information might interest you: